Version 4.8.0.0 in beta test.
---
Current version of

Quick Media Converter




Info on video file avalaible now on Vista-Win 7 Win 8

Version FFmpeg 32 bits and 64 bits supported

Corrections of profiles...
Salesforce Marketing Cloud

Importante information : the version 4.5.0.0 is no longer in use.

It's not possible to download the old version of FFmpeg.
---
Quick Media Converter

HD V4.5.0.6



New version of FFmpeg x32 and x64 Better support of Mkv Support of Html5 format
---
Flash News : More than 2.9Million satisfied Regular Users are now using Quick Media Converter HD ! Thanks to all of you for your support..
---
Stay up to date with QMC and follow us on:


---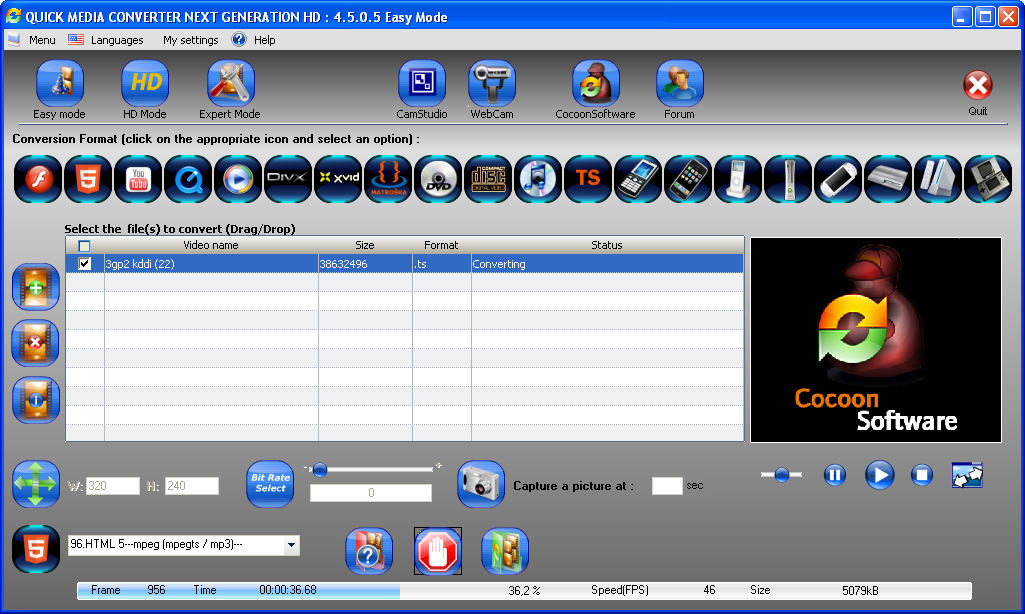 ---


Quick Media Converter is 100% Free! ( Financed by Donations and onsite advertising only)
No trial No strings attached ! No Malware, No spyware, No viruses, No logo engraved on your video
Gilles and Helena hope you will Enjoy !
Introducing our best ever version supporting many more formats , new design new possibilities such as Youtube Video Converter ability as well as Daily Motion AVC video conversion and also Support of QCELP (USA)audio codec as well as KDDI Codec ( Japan) TS HD from Satellite receivers such as Dreambox and much much more such as an integrated video audio player.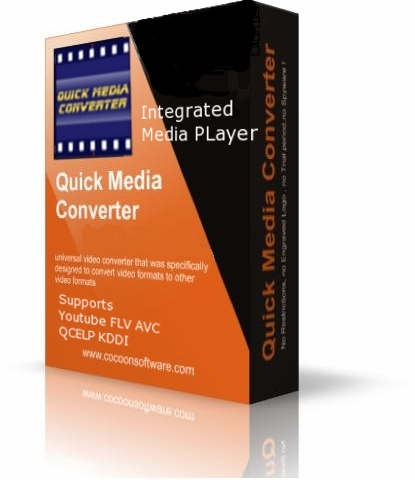 Works in all windows versions up to Win 8
and Windows 8 professionnal
Whether you have been using QMC for a while or you are a new user you will probably be stunned and thrilled by this latest release. Quite a difference between this version and all preceding ones. By far our best up to now and still free for all!
What's new in QMC HD V 4.5.0.6 ?
· HTML 5 SUPPORT ISSUE FIXED.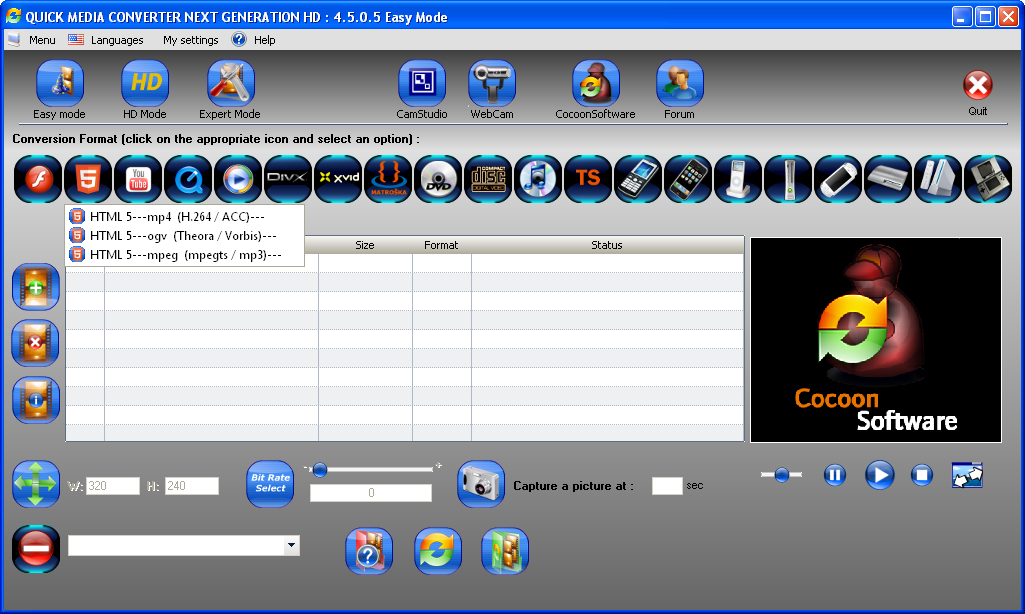 ·

Easy mode formats, now include direct access to expert mode and prefilling of the fields to put you on track according to your specific needs.
. Qmc supports QCELP and KDDI codecs
Faster conversion with the motor.

. Our Qmc Youtube Converter supports also the latest video conversion in FLV AVC HD video and audio codecsas a breeze (converter to and from youtube). As per its design Quick Media Converter stands out as one of the best free Youtube Converters around. Quick Media converter not only allows you to convert clips you downloaded from Youtube but also allows you to easily prepare and upload to Youtube ,according to their standards, your HD (High Definition videos).QMC install automaticely the version of FFmpeg (x32 or x64) dependent the version OS windows.
Youtube converter recommended audio and video resolutions in HD
-Ogg support for Html5 web video
-Support of of FFmpeg version 32 bits -64 bits and easy installation recognition Os system x32- x64
-Video Resolution Recommended:
Original resolution of your Youtube converter video
- For HD it is 1920x1080 (1080p) or 1280 x 720.
-Expert Mode now Available
Bit rate
Because bit-rate is highly dependent on codec there is no recommended or minimum value.
Videos should be optimized for resolution, aspect ratio and frame rate rather than bit rate.
Frame rate
The frame rate of the original video should be maintained without re-sampling. In particular pulldown and other frame rate re-sampling techniques are strongly discouraged.

Codec
H.264 or MPEG-2 preferred.
Preferred containers
FLV, MPEG-2, and MPEG-4Audio Codec MP3 or AAC preferred

Preferred containers
FLV, MPEG-2, and MPEG-4 Sampling rate 44.1kHz Channels 2 (stereo)
You can easily set those up using our default profiles in expert mode . We will soon include it in our Quick Media Converter easy mode as well under a Youtube converter button.

· New improved faster interface
· New improved installation process
· Many bugs have been solved and removed.
· Improved and embedded video player with possibility to extend its window or to go to full screen.
· Technical Information on files now are in a separate window and include your pc os and your current QMC version to allow copy and paste on the help forum when required.
· HD TS files are also supported.when not encrypted
· Full HD section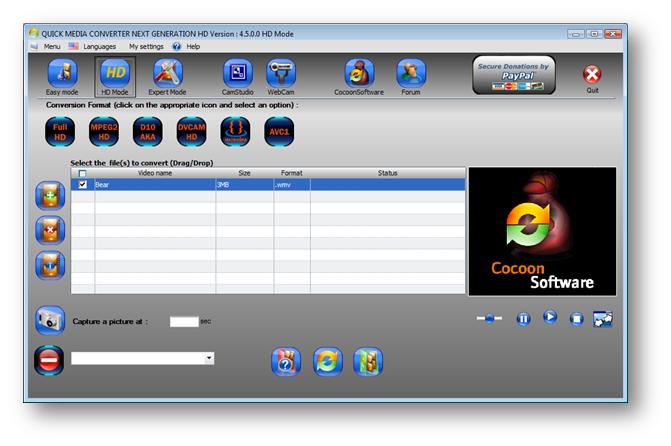 ---

Quick Media Converter HD V 4.5.0.6
Available for download check left menu:
Information about Quick Media Converter HD v 4.5.0.6
Thank you all for voting for QMC as one of the 12 best free windows applications of 2008 on !!!
Quick Media Converter is also now among the best 2009 freeware applications selection on
Quick Media Converter is a free universal Video and Audio Youtube converter with many more different possibilities, designed to be as simple to use as it may get, Quick Media Converter supports a myriad of formats and codecs : Check Here


Introduced in late December 2007 as a beta version (2.8) it has soon grown to be one of the most popular converters around, thanks to the , to our dedicated users and to Gilles and Jean Louis' hard work during their free time, all in an effort to bring you the best .

Languages available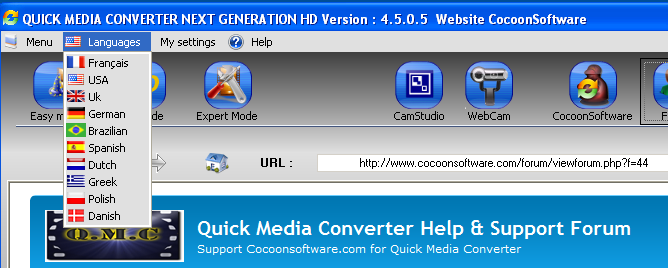 Niko Steenkist

Mizo

Erik S Kristensen

For more detailled information click below please