Would you like to Help Quick Media Converter grow ?


It is very easy to help us... Find out how and get the tools.



First of all thank you all for using our freeware Quick Media Converter and for making it what it is today.



You may or may not know , but so far only two of us ( Gilles the QMC developper and myself Jean Louis doing most of the rest ) .

The two of us have been developping & referencing this software, maintaining the website , the forum and all the other aspects that have finally brought it to your knowledge, bringing you this freeware is not only a costly task, but it is a very long and tedious one .

We have both invested a great deal of our free personal spare time and at the expense of our private lives.

As increasing success comes, even though it feels really great to see that we hit our main target and managed to make conversions simple and accessible to all with the Quick Media Converter ( we thank you all very much for it), There is however a drawback resulting from that success, as it globally requires even more time and money in order to keep on bringing you the best , some nasty languages may think that our sponsors would provide us largely enough money to cover it all , but to make the record straight once and for all, commercial sponsors hardly pay enough to get a couple of beers a day, a lot of webmasters reading these lines are probably dying to agree with us and confirm it :) .

So far and since Planet Earth and our beloved Sun appeared in our Universe, days have unfortunately had only 24 hours, therefore the crual reality is that in order to maintain Quick Media Converter as a freeware, we need to somehow involve our users in our project, provided they would be willing to participate and help on a volunteer basis.
Gilles and I during our last brainstorming process, came up with a few ideas that would not take much of your time and could very well give us a lot more time to concentrate our efforts into bringing better and more new neat stuff we have currently baking in the oven.

Below is a list of what and how you could do to help us :
Translation volunteers for the Quick Media Converter and why not the website content
From our statistics , it clearly shows that our software is reaching the whole world, unfortunately even though we speak a few languages, we are not good enough to use the proper terms or mucjh less writing properly in most cases .

A lot of people do not understand english and french. So we decided to provide our other foreign users with international languages.

After posting this request on the forum we had some nice guys that volunteered to translate in their native language.

In return of the translations of QMC, we offer to include the translator's name and website (or blog) link on the application interface (when displayed in their language).

So far allready working on the translations :






English (QMC)
French (QMC)
German Andreas
Brazilian Portuguese Kallango
Chinese YuanXi (UTF 8 Code Issue)
Spanish Hommaxsistemas


All other languages are still available for any volunteers caring for their fellow citizens .

Here are the most needed remaining languages :














Italian
Greek
Turkish
Dutch
Scandinavian Languages
Baltic Languages
Japanese
Indonesian

Arabic
Polish
Russian
Hebrew

Any other languages are welcome and will be carefully studied by us according to priories and feasability.
Participate actively by talking about us and spreading the word
Friends
Chat Websites
Social bookmarking
Forums private and public
Mouth to ear
Emails to your friends or lists

News letters
News groups
Websites links
Blogs
Make Nice Video demos
in your native language using camstudio (included in QMC)
and post them on you tube , if we do not have them there is a great chance we will post them here :
/index.php?option=com_content&task=category&sectionid=6&id=14&Itemid=35 Make sure they are not posted yet, then make the tutorial as good as possible then send us the original and we will give you full credit for it as well as the link to your youtube channel or other video website .

Any other ideas that may come to your mind.contact us using this form
Become an active moderator on our Forums expert mode section or other



Most of you may know we have a support forum but we do not support the expert mode because we do not have the time , if you feel you know video conversion very well as well as our software and your are interested in helping others in your own language (French or English for the moment) just pm "Team Cocoon" and ask. We will be very glad to answer you. Forum Link
You would like to see our help section forum in your language and manage it ? just let us know we will study it with you.contact us using this form


You do not have time but somehow you want to support us financially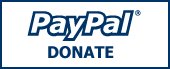 A more than welcome solution is to do a donation through paypal it will help us pay for needed further software development and dedicated server hosting costs.

You can also find a donation button on your application "just click on it if you are in a good mood" may I try also in any mood ? :) We take advantage of this opportunity to thank all those who have already clicked on the button and this in whatever mood they were :) As you will notice we have set three possible donations (5-10-15 Euros),ou may just select the one you want to do ( there is no obligation whatsoever).

Thank you all in advance for your generosity.

Do not forget to send us as much information as you have including your previous work and portfollio , we will then contact you back to further discuss with you the subject.
Tools to promote Quick Media Converter on your website or blog :

Download Link to Quick Media Converter :



/download/Install.zip


Banner :/images/stories/banners/banner468quickmediajoomla.png

Screenshot:
/images/stories/QMC365/qmc365us.jpg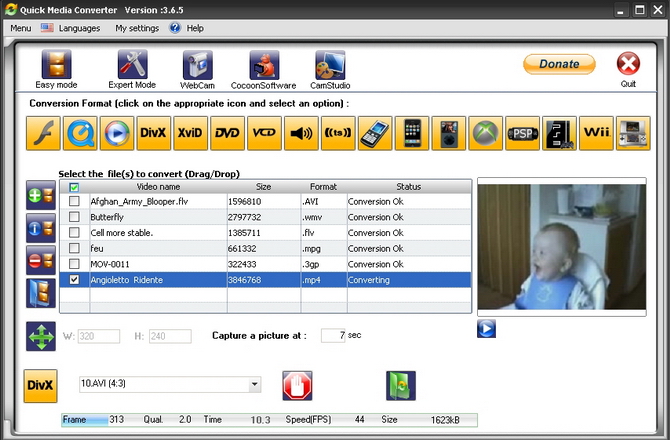 /images/stories/logoqmctptvierge48x48.png

Padfile :

You have a download website ? you use pad xml files ? here is the link to our pad file :
Padfile QMC (asp standard file) /padfile/pad_file.xml
(Section Video Conversion )


Show tutorials to help your visitors :

Link or upload our Video demos and tutorials on your website or blogs ,


Quick Media Converter Descriptions :

Save a lot of time blogguing by just copying and pasting one of the descriptions below in your blog or website.

45 Characters

Convert to and from most formats your medias

80 Characters

Convert most video and audio formats,efficient and very simple to use

250 Characters

Powerful and complete Free video and audio conversion software, as easy as it gets for all. Myriad of
formats supported Flv,avi,divx,xvid,mpeg4,ipod,iphone,psp,3GP,3G2,AVI,DIVX,XVID,TS,DVD,VCD,MPEG,MPEG2,
MP3,WAV,amr,m4a,mp4,vob,mov,h264,h263,wmv

450 Characters

Quick Media Converter is apowerful and complete Free video and audio conversion software. Converts to and from most formats including: flv,avi,divx,xvid,mpeg4,ipod,iphone,psp,3GP,3G2,AVI,DIVX,XVID,TS,DVD,VCD,MPEG,MPEG2,
MP3,WAV,amr,m4a,mp4,vob,mov,h264,h263,wmv,wma . Resizing Cropping and also Web Cam or DV Cam fluxes capture to avi divx . Batch Conversions supported, desktop activity recording.

2000 Characters
Quick Media Converter is a free, very powerful and complete video and audio conversion software.

Converts to and from most formats including but not restricted to :

Video:
flv,avi,divx,xvid,mpeg4,ipod,iphone,psp,3GP,3G2,AVI,DIVX,XVID,TS,DVD,
VCD,MPEG,Mpeg2,Mpeg4, mp4,vob ,mov,h264,h263, wmv.
Thumbnail capture as converting video according to the time you set (5s-59sec)
conversion for video games consoles
Xbox XBox 360,Wii, PSP , PS3

Audio :
MP3,WAV,amr,m4a, ,wma
QMC also allows you to record videos in or take pictures from your Web cam or DV Cam flux ,in avi divx format and then convert it to any format you want.
Batch Conversions are supported
Contains its own codecs no need for Addons
Has its own multi format media player (ffplay)
Based on FFmpeg open source code by Fabrice Bellard uses its own codec library, there is no need to install extra codec packs.

Includes screen activity and audio recorder (Camstudio) for demos and tutorials in avi.

Also Included are two users modes:

Mode 1- Easy Mode Very intuitive : For all users includes: standard conversions settings to allow users to convert quickly without having any particular skills. Convert In 3-5 clicks.
Now also includes custom resizing possibility where appropriate and thumbnails capture.

Mode2 - Expert mode: For skilled and more experienced users, allows more flexibility and more specialized conversions settings such as cropping bitrates frequency rates, sizes ,aspect, includes much more codecs and requires good knowledge of video and audio conversion...

Application also has :

Direct access to the help forum through the application.
Converts to and from mobile phones ( Some us phones are not supported QCELP and KIdd proprietary codecs Issues).
Converts all FLV files ( Youtube, Dailymotion, Break etc ...).
Captures and records Web cam and DV Cam flux (video and sound)
No trial period
No engraved logo
No spyware
No malware
100 % Free software