TRY THE NEW QUICK DOWNLOADER

DONWLOAD YOURS VIDEOS FROM YOUTUBE-GOOGLE VIDEOS - DAILY MOTIONS AND THAN MORE HUNDERD OTHERS SITES
Version 4.8.0.0 beta is ready for test purpose.
Thank you very much for your feedback

You can post your feedback on the forum.
---
Current version of
Quick Media Converter



Info on video file avalaible now on Vista-Win 7 Win 8

Version FFmpeg 32 bits and 64 bits supported

Corrections of profiles...

Importante information : the version 4.5.0.0 is no longer in use.

It's not possible to download the old version of FFmpeg.
---
Quick Media Converter

HD V4.5.0.6



New version of FFmpeg x32 and x64 Better support of Mkv Support of Html5 format
---
Flash News : More than 2.9Million satisfied Regular Users are now using Quick Media Converter HD ! Thanks to all of you for your support..
---
Stay up to date with QMC and follow us on:


---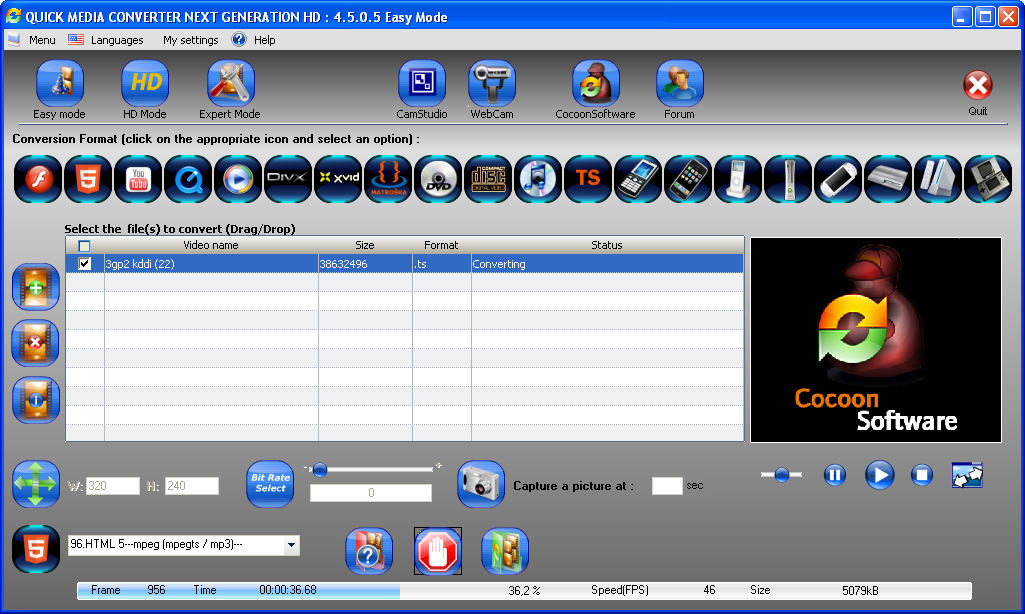 ---


Quick Media Converter is 100% Free! ( Financed by Donations and onsite advertising only)
No trial No strings attached ! No Malware, No spyware, No viruses, No logo engraved on your video
Gilles and Helena hope you will Enjoy !
Introducing our best ever version supporting many more formats , new design new possibilities such as Youtube Video Converter ability as well as Daily Motion AVC video conversion and also Support of QCELP (USA)audio codec as well as KDDI Codec ( Japan) TS HD from Satellite receivers such as Dreambox and much much more such as an integrated video audio player.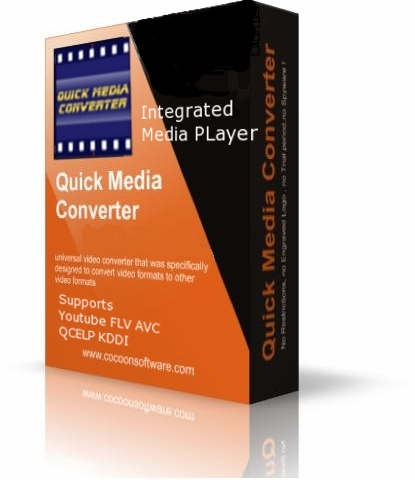 Works in all windows versions up to Win 8
and Windows 8 professionnal
Whether you have been using QMC for a while or you are a new user you will probably be stunned and thrilled by this latest release. Quite a difference between this version and all preceding ones. By far our best up to now and still free for all!
What's new in QMC HD V 4.5.0.6 ?
· HTML 5 SUPPORT ISSUE FIXED.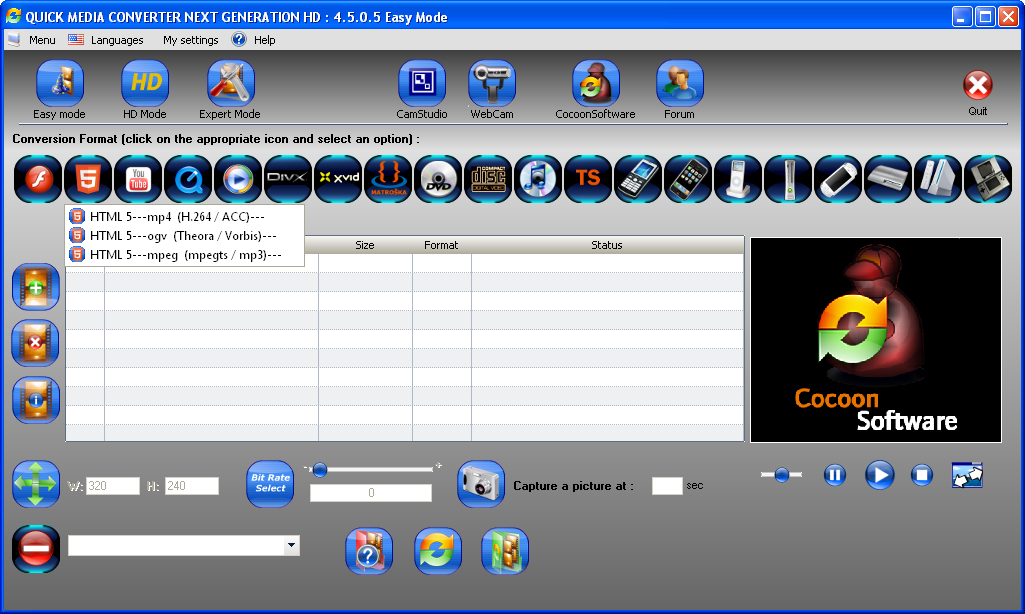 ·

Easy mode formats, now include direct access to expert mode and prefilling of the fields to put you on track according to your specific needs.
. Qmc supports QCELP and KDDI codecs
Faster conversion with the motor.

. Our Qmc Youtube Converter supports also the latest video conversion in FLV AVC HD video and audio codecsas a breeze (converter to and from youtube). As per its design Quick Media Converter stands out as one of the best free Youtube Converters around. Quick Media converter not only allows you to convert clips you downloaded from Youtube but also allows you to easily prepare and upload to Youtube ,according to their standards, your HD (High Definition videos).QMC install automaticely the version of FFmpeg (x32 or x64) dependent the version OS windows.
Youtube converter recommended audio and video resolutions in HD
-Ogg support for Html5 web video
-Support of of FFmpeg version 32 bits -64 bits and easy installation recognition Os system x32- x64
-Video Resolution Recommended:
Original resolution of your Youtube converter video
- For HD it is 1920x1080 (1080p) or 1280 x 720.
-Expert Mode now Available
Bit rate
Because bit-rate is highly dependent on codec there is no recommended or minimum value.
Videos should be optimized for resolution, aspect ratio and frame rate rather than bit rate.
Frame rate
The frame rate of the original video should be maintained without re-sampling. In particular pulldown and other frame rate re-sampling techniques are strongly discouraged.

Codec
H.264 or MPEG-2 preferred.
Preferred containers
FLV, MPEG-2, and MPEG-4Audio Codec MP3 or AAC preferred

Preferred containers
FLV, MPEG-2, and MPEG-4 Sampling rate 44.1kHz Channels 2 (stereo)
You can easily set those up using our default profiles in expert mode . We will soon include it in our Quick Media Converter easy mode as well under a Youtube converter button.

· New improved faster interface
· New improved installation process
· Many bugs have been solved and removed.
· Improved and embedded video player with possibility to extend its window or to go to full screen.
· Technical Information on files now are in a separate window and include your pc os and your current QMC version to allow copy and paste on the help forum when required.
· HD TS files are also supported.when not encrypted
· Full HD section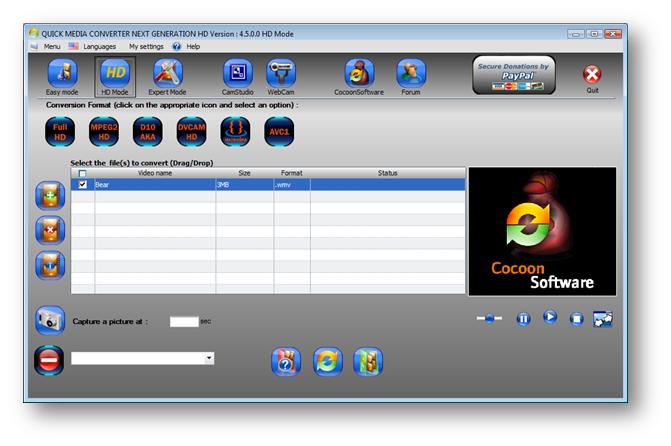 ---

Quick Media Converter HD V 4.5.0.6
Available for download check left menu:
Information about Quick Media Converter HD v 4.5.0.6
Thank you all for voting for QMC as one of the 12 best free windows applications of 2008 on Lifehacker.com !!!
Quick Media Converter is also now among the best 2009 freeware applications selection on PCMAG.COM
Quick Media Converter is a free universal Video and Audio Youtube converter with many more different possibilities, designed to be as simple to use as it may get, Quick Media Converter supports a myriad of formats and codecs : Check Here


Introduced in late December 2007 as a beta version (2.8) it has soon grown to be one of the most popular converters around, thanks to the ffmpeg team , to our dedicated users and to Gilles and Jean Louis' hard work during their free time, all in an effort to bring you the best .

Languages available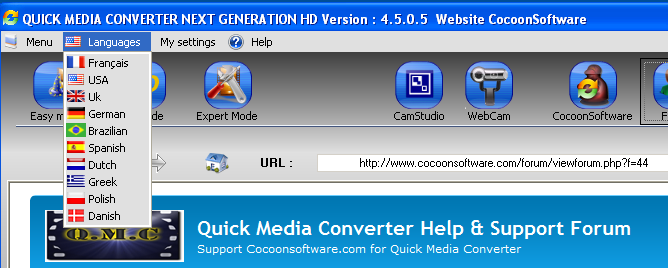 Hommax Sistema

Kallango

Andreas

Niko Steenkist

Mizo

Erik S Kristensen

For more detailled information click below please


Easy Mode

New Options.
-Custom rezise
-Custom Bit Rate
- Corrections of some profiles
- PSP connection correction: now the memory card is recognized.
- New profile TS 50 fps
- Fixed bug translations in the uninstaller and the windows QMC
- Fixed bug in help menu-manual update
- Fixed bug when you start for the first time Qmc and the incorrect language is displayed.
- New timer gauge add in the internal video player in expert and easy mode.
- QMC starts more quickly than the older versions.
- Exception error adds if QMC can not communicate to retrieve the update.
- Fully compliance with Vista and Seven.
- Result of Conversion faster than the latest version.
- Fixed display of the gauge conversion.
- Bug corrected when tries to cancel a conversion.
- Security fixe with non genuine version with malware or a hack registry.
- New version off info video files X32 and X64.
- New version of FFmpeg X32 and in a next future (X64 but not stable).
- New Button "YouTube" conversions in easy and Expert mode.
- Resize of buttons player
- Some corrections in translations
- In expert mode, the Combo Format now appears only in the tab video.
- New conversion Button YouTube with two settings available.
- New Cam studio version available and installer of codec's.
- Some bugs in tables list corrected.
- New I phone profile
- Correction of pipe dos error: "File or command not found"
- New message in case of FFmpeg error is disabled after 3 sec and translation is also now integrated.
- New debug file and it can be send now directly.
- New options in easy mode with a bit rate choice available with custom resize and custom bit rate for some formats.
- Bugs corrected in the settings window.
- Bug in creation of picture in AVI format corrected.
- New log error system
- Correction in bit rate calculator.
Several other code improvement were made such as better quality output for flv.

SWF Mkv and Zune conversions will now be supported in easy mode and expert mode.

Error codes will include more detailled information about the probable cause of conversion failure in order to improve and accelerate the support forum resolution process.
Expert mode
The expert mode has been reviewed almost totally and now includes more possibilities in the four tabs available .
Tab one : General Info
You can now include subtitles when available
You can write your copy right information in the videos you created.
You can also include other persona meta l information such as title and album name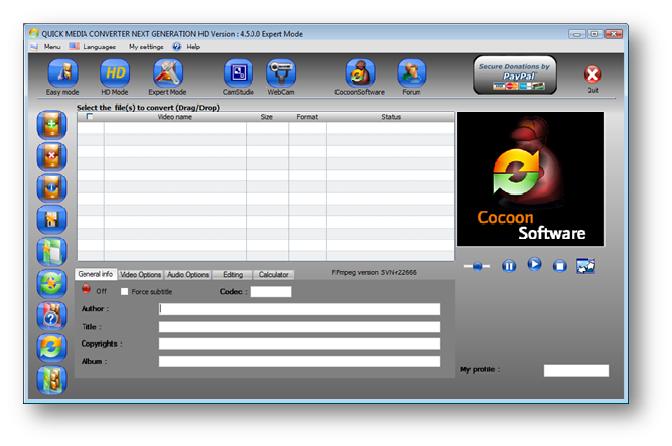 Tab 2 : Video Options
Two pass process available
Manual settings include :
Format, Force Format
Codec
Aspect
Audio only
FFmpeg command line with or without other settings : ( Write your own and share with others after testing)
2 Pass encoding ( encodes video and audio separately then resynchronizes the two)
Bitrate
Frames per second (FPS)
Presets profiles loading and profiles saving
We encourage our users to share their profiles or command lines with others on our forum in the expert mode section.
Reset button ( sets back initial default values)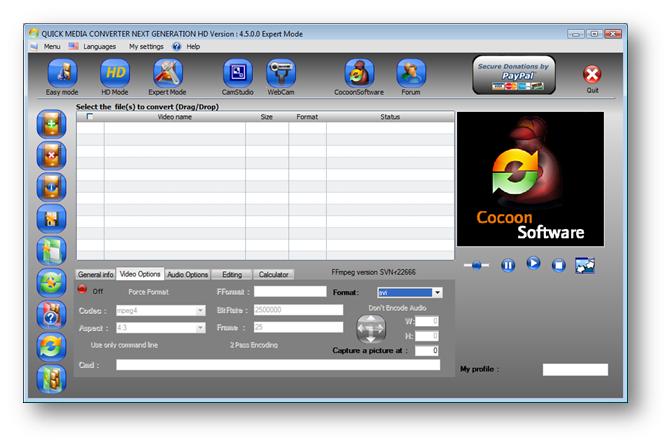 Tab 3: Audio Options
Mulit Audio channel support for appropriate formats (from 1-6)
Audio Synchronisation
Recording Volume in expert mode will now be adjustable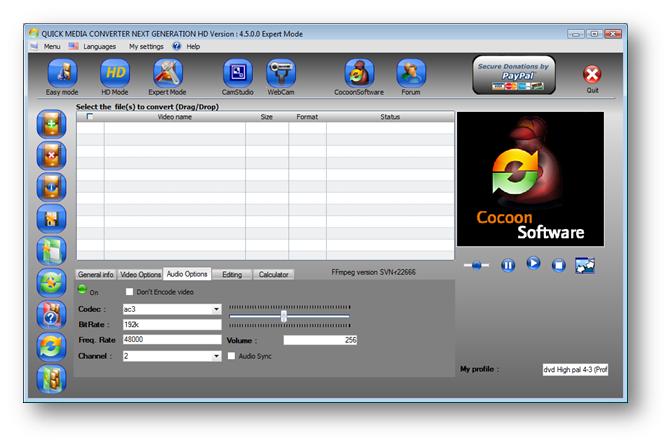 Tab 4 : Editing
Cropping padding and choosing colors for the padding option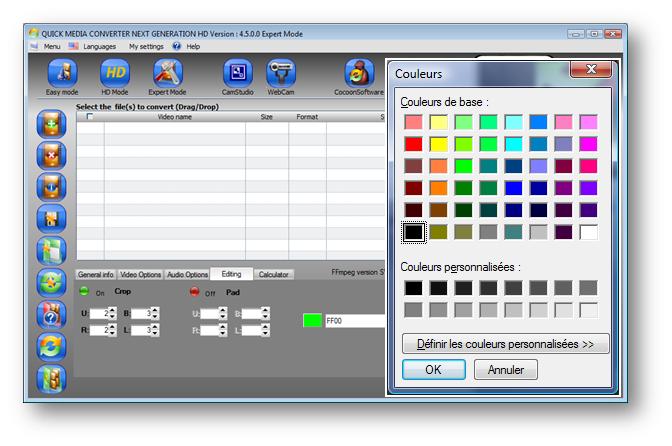 Other Improvements :
New Skin & New Icons
Select File (s) to convert
Delete the selected or checked File (s)
Gives the file technical information (when highlighted in the active worksheet)
Select Output Folder
Save Profile
Save a profile
Load Profile in expert mode
Reset a profile
New Menu for default folders selection



Multi threading support with this new versionwith and input of numbers of processors.
For the expert, another opportunity to try its own version of FFmpeg.
Check two check box and copy paste your FFmpeg version in your personnal data folder...
You will be notified by your application as soon as a new version will be available Or check check box Do not automaticely check for updates QMC ...
What has been changed and corrected in Quick Media Converter 4.5.0.5
Easy Mode :
Television Video outputs uniformisation ie : 720x576 (PAL) 720x480(NTSC)
Format DVD are standardised with an simplified menu
New stuff in Quick Media Converter HD 4.5.0.5:
PSP Video encoding multi processor compatible
Application buttons deactivated during conversions to avoid encoding errors ( Except cancel button)
Thumbnail Capture selection set to 0 by default. ( You may select from 5-300 secs)
You can now open easy mode in expert mode with prefilled fields ..
You can now open easy mode and select a Bit Rate or Size...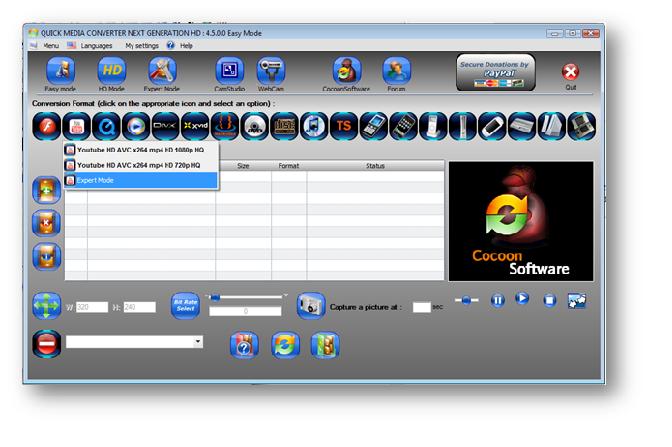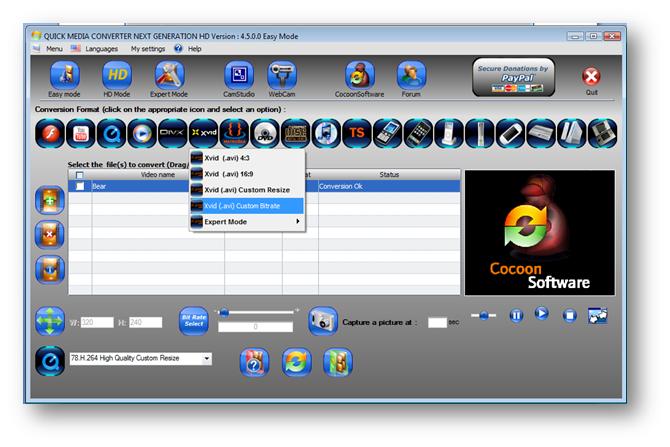 Bugs corrected:
Dreambox TS Format audio and video codecs corrected.
Full HD Xbox Codec corrected ( no thumbnail on screen)
Full HD PS3 Corrected , dimensions 1920 x1080 now taken into account
Ipod Xvid Codec, Xvid Tag not recognized by ipod is now corrected.
DVDs PAl and NTSC formats now corrected.
Resampling error solved with the resolution of Youtube DailyMotion FLV AVC codecs
Supports QCELP and KDDI Codecs now included
Expert Mode
New Stuff :
New format and codec selection combos include possibility to store new codecs or formats if they are supported by ffmpeg and not present.
Application buttons deactivated during conversions (except cancel button).
Interlaced command now supported for better Home DVD and TV compatibility
Profiles available upon install directly in the installation folder or from your application.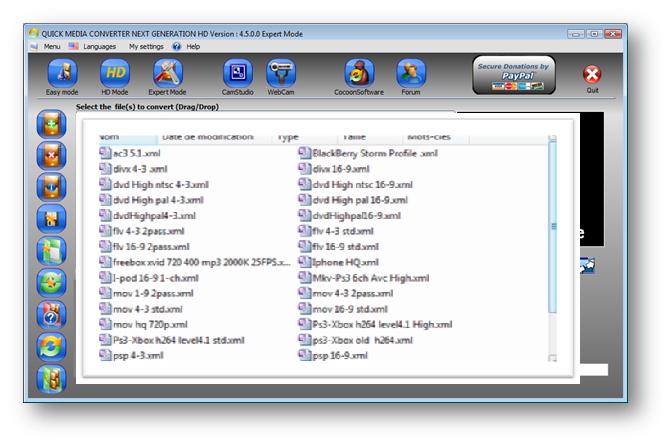 Webcam is now activated by default.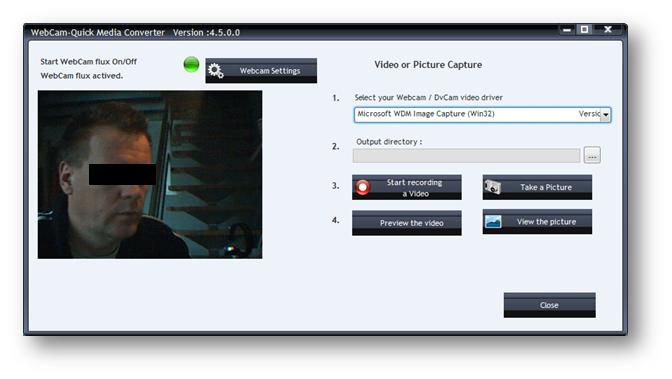 New codec's and corrections added in codec's:
- PB-frame decoding for H.263
- deprecated vhook subsystem removed
- deprecated old scaler removed
- VQF demuxer
- Alpha channel scaler
- PCX encoder
- RTP packetization of H.263
- RTP packetization of AMR
- RTP depacketization of Vorbis
- CorePNG decoding support
- Cook multichannel decoding support
- introduced avlanguage helpers in libavformat
- 8088flex TMV demuxer and decoder
- per-stream language-tags extraction in asfdec
- V210 decoder and encoder
- remaining GPL parts in AC-3 decoder converted to LGPL
- QCP demuxer
- SoX native format muxer and demuxer
- AMR-NB decoding/encoding, AMR-WB decoding via OpenCORE libraries
- DPX image decoder
- Electronic Arts Madcow decoder
- DivX (XSUB) subtitle encoder
- nonfree libamr support for AMR-NB/WB decoding/encoding removed
- experimental AAC encoder
- RTP depacketization of ASF and RTSP from WMS servers
- RTMP support in libavformat
- noX handling for OPT_BOOL X options
- Wave64 demuxer
- IEC-61937 compatible Muxer
- TwinVQ decoder
- Bluray (PGS) subtitle decoder
- LPCM support in MPEG-TS (HDMV RID as found on Blu-ray disks)
- WMA Pro decoder
- Core Audio Format demuxer
- Atrac1 decoder
- MD STUDIO audio demuxer
- RF64 support in WAV demuxer
- MPEG-4 Audio Lossless Coding (ALS) decoder
- -formats option split into -formats, -codecs, -bsfs, and -protocols
- IV8 demuxer
- CDG demuxer and decoder
- R210 decoder
- Auravision Aura 1 and 2 decoders
- Deluxe Paint Animation playback system
- SIPR decoder
- Adobe Filmstrip muxer and demuxer
- RTP depacketization of H.263
- Bink demuxer and audio/video decoders
- enable symbol versioning by default for linkers that support it
- IFF PBM/ILBM bitmap decoder
- concat protocol
- Indeo 5 decoder
- RTP depacketization of AMR
- WMA Voice decoder
- ffprobe tool
- AMR-NB decoder
- RTSP muxer
- HE-AAC v1 decoder
- Kega Game Video (KGV1) decoder
- VorbisComment writing for FLAC, Ogg FLAC and Ogg Speex files
- RTP depacketization of Theora
- HTTP Digest authentication
- RTMP/RTMPT/RTMPS/RTMPE/RTMPTE protocol support via librtmp
- Psygnosis YOP demuxer and video decoder
- spectral extension support in the E-AC-3 decoder
- unsharp video filter
- RTP hinting in the mov/3gp/mp4 muxer
- Dirac in Ogg demuxing
- seek to keyframes in Ogg
- 4:2:2 and 4:4:4 Theora decoding
- 35% faster VP3/Theora decoding
- faster AAC decoding
- faster H.264 decoding